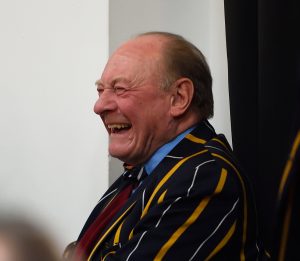 Nick Meyer (2 & 3 South) attended Cranleigh between 1958 and 1962. For those four years he enjoyed everything the School had to offer, though by his own admission academics wasn't top of the priority list.
It was a different story for sports and the creative arts. Nick was part of the the 2nd XV for both rugby and cricket, as well representing Cranleigh at boxing and participating enthusiastically in other sports. Always a keen singer, he also performed in two school plays.
On leaving school, he joined Montague L Meyer Ltd as a trainee, doing the company rounds from a stint at Head Office and time as a stevedore in the London docks, to working in a door factory in France and on the sales desk in one of the trading divisions.
Nick became a sales rep for the company in 1966; and worked his way swiftly through the ranks: sales manager in 1970; main Board Director in 1974; Director of Operations in 1976; and Chairman and Chief Executive in 1979. The firm merged with International Timber in 1982, and three years' later Nick and others resigned to form Consolidated Timber Holdings Ltd, where he works to the present day.
Throughout his busy career Nick has never lost touch with Cranleigh, embracing the OC Society and continuing his successful sporting career in blue and gold. He captained the 1st XV in 1969 and 1971; was Chairman of the OCRFC 1982-1986; helped to manage the OC Society from 1986 to 2000; and was Captain of the Golfing Society in 1990. Nick also took on a lengthy and successful stint as a Governor of the School between 1999 and 2015 and has been Chairman of the Cranleigh School Foundation from 2016 to the present day.
Nick says: 'I learned one very big lesson at Cranleigh, and that was how to survive in life in general and, in particular, how to get on with people to the best of my ability. I think this great lesson has served me well in later life. The other wonderful experience was the opportunity to participate as fully as possible in the OC social life and in particular, to see the OC Society and its associated Clubs blossom, flourish and go from strength to strength in recent years; long may it continue.'