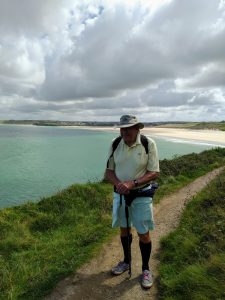 Susie Schofield, Head of Cranleigh Giving, joined Nick and his band of happy walkers for three days of his Cornish Coastal Challenge. They walked from Lelant Saltings to Gwennap Point, a distance of almost 30 miles.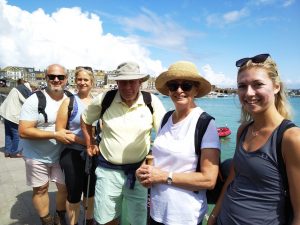 LELANT SALTINGS-ZENNOR
On the first day, we were joined by Nick's old Mullion friends, Lauren Powell, Jonathan and Agnuska Pearson, and Nick's sister-in-law, Julie Meyer. Liz Parker, Nick's childhood Mullion friend, provided essential transport and back-up services with good cheer and good humour.
Unbeknownst to this troop of happy ramblers, the last stretch of this section becomes tough, with large boulders to clamber over and then the path becomes so narrow, the giant ferns close in on you. Our guidebook politely warns that if 'you suffer poor weather, it becomes an arduous treadmill'. It did and it was. The rain suddenly descended – as it only can in Cornwall – and for the last couple of hours our soundtrack was squelching and groans as we heaved ourselves up over slippy rocks.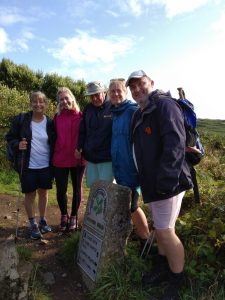 PENDEEN TO SENNEN COVE
The second day was much kinder. On this day, Nick and I were joined by Cranleigh's Headmaster, Martin Reader (see his post) and OC Simon Broadhurst (2&3 South, 1992-97).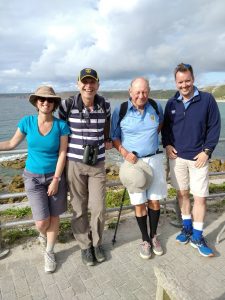 Regular readers of this blog will know that Simon has joined Nick on the walk before so he was in tune with Nick's brisk pace. The weather was glorious and Liz delighted us all with a feast of (still warm) sausage rolls at Geevor Mine Museum. We were mesmerized by the amazing views, charmed by the camaraderie of fellow coastal path walkers, and the sense of achievement at the distance travelled. The day ended with a much-deserved treat of ice cream as well as the uplifting news of a £1,000 donation for Nick's campaign.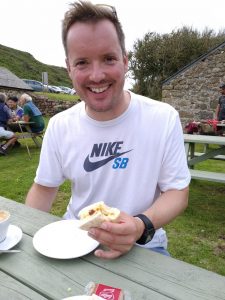 SENNEN COVE TO PORTHGWARRA
On the third day, it was just Susie and Simon accompanying Nick. Nick had walked for four consecutive days so decided on a shorter section of just six miles. With Nick's marvellous baritone, he serenaded us with sea shanties and regaled us with lesser known facts of Cornish trivia.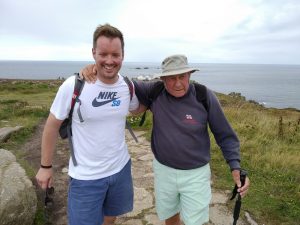 So, it was a shock when we suddenly descended into Porthgwarra, our final destination for the day. We rewarded ourselves with treats at the café for a hike well done, all in aid of an excellent cause. At the time of typing, with Nick's pledge, he's raised £19,365. It would be wonderful if we could nudge it to £25,000.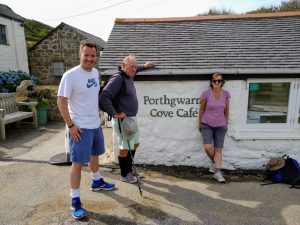 'Come for a walk,' Nick said. And I'm so glad I did.