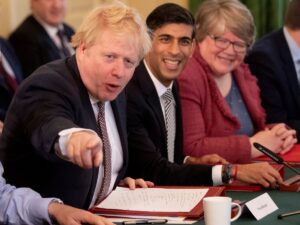 June 2021. This is the date the government has pencilled in for the next cabinet reshuffle and it couldn't be coming at a more appropriate time. Boris Johnson's cabinet was designed to get Brexit done- no one could have anticipated that these 21 ministers were going to have to steer the country through a global pandemic- so it's safe to say that they were thrown in at the deep end and some have coped better than others. Although it wasn't intended, what Covid has done is show us, and our Prime Minister, the strengths and weaknesses of his cabinet and by June the ones with the most weaknesses and who have done the most damage, need to be gone- not only for the safety and security of the future of our country, but also for the safety and security of the Tory majority, because like it or not the Covid-19 pandemic will always be associated with Conservative failure. This means that the best chance Boris Johnson has at retaining his majority at the next election is by proving that his government is competent and making up for the mess that is the UK in 2021, which he most certainly cannot do if he keeps cabinet the way it is.
Firstly, Gavin Williamson should be at the top of Johnson's list for 'who's going'- despite him being the ex Chief party whip. Not only should Williamson have already resigned on several occasions under the convention of individual ministerial responsibility (following his complete failures with exams, grades, free school meals and testing programmes in schools), but by having him stay on as Secretary for Education undermines the possible strength of the current government who have no choice but to support his catastrophic policies. Singlehandedly, Gavin Williamson has destroyed teachers, pupils and parents of pupils' trust in the government, and the first step to restoring this trust and winning back these votes is by getting rid of him.
The same goes for Matt Hancock. Whilst I don't think he is on the same incompetence level as Gavin Williamson, keeping him as Health Secretary will not help distract the UK from the past two, shambolic years. Moving him to another, less senior department and getting in a fresh face to announce the 'newly detected variants' or 'progress of the vaccination programme' would probably help restore the country's confidence and instil some hope, at least for a while. 
Priti Patel ought to go as well, or at least move departments. Despite her arguable success as Home Secretary, she clearly isn't doing well at managing the people in this department as they all see her as a bully- not an image the Conservative government should be associating itself with if it wasn't to win back the UKs trust. 
Furthermore, Johnson's cabinet needs to up it's number of female faces. The last thing Boris Johnson needs is to have his reshuffled cabinet be criticized for lacking diversity, as this is one of the only things going for them at the moment. Promoting Liz Truss to a more senior position wouldn't go amiss and other junior ministers who have proven their loyalty such as Kemi Badenoch, Lucy Frazer, Gillian Keegan and Victoria Atkins deserve a shot at the top as well. 
However, with all this change which is bound to spark controversy, it is also important that Johnson keeps some friendly faces around for consistency, continuity and unity within his party (and also, believe it or not, some of the current cabinet members have done a decent job over the past two years). For example, Rishi Sunak and Dominic Raab should be kept in office. Rishi Sunak developed some well implemented policies and has been shown to be one of the key people in actually getting us through this pandemic. Dominic Raab, who the public also seem to like (he is the 6th most popular Conservative politician according to YouGov polls) would be a good member to keep in the mix and he hasn't done irreparable damage to the Conservative name. Ultimately, when June rolls around, Johnson needs to ensure the unpopular and seemingly incompetent ministers are dealt with while finding a balance between new faces and old stars within Number 10.