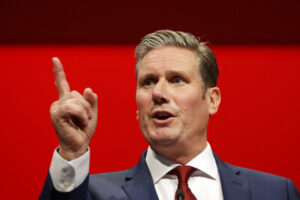 So after what felt like an eternity, the Labour Leadership race finally came to an end this morning when Sir Keir Starmer swept to victory over rival candidates Lisa Nandy and Rebecca Long Baily. At the start of the Leadership race, life was very normal indeed. Boris Johnson had just won a comfortable majority, we all were free to go about and about on 'non-essential' trips to the supermarket and most people probably thought that COVID-19 was some kind of German thrash-metal band from the late 1990s.
Oh what a difference a matter of months make. As we enter the first week of April, Boris Johnson is holed up in isolation in the flat about Number 10 Downing Street, having failed to make a swift recovery from a nasty bout of COVID-19, leaving the running of the country to Matt Hancock, Chris Whitty and Rishi Sunak. His all powerful, 80 seat majority winning Conservative party is already on the rocks, having had to ditch their 'get Brexit done' manifesto, and essentially nationalise most of the country in order to prevent economic chaos. In many ways he has substituted Jeremy Corbyn's manifesto for his own. The government is also under immense pressure for its seemingly flawed response to to pandemic so far: a lack of PPE for frontline healthcare workers, a lack of testing for all NHS staff, a rising death toll each day to rival that of both Spain and Italy, with no exit strategy in sight.
Seemingly Starmer could not have won the leadership at a better time. He can now accept the offer from Johnson to work with the government in a show of 'party unity' in a time of crisis, whilst also using his skills as a highly regarded human rights lawyer to forensically scrutinise every policy decision, knowing full well that when this is over that there will be a wide scale public enquiry into the steps the government took or indeed failed to take in dealing with the crisis.
There is however something that Starmer does need to attend to if he wants to use the current situation to finally propel Labour back into power by the time of the 2024 general election, and that is to search out and destroy all remains of the toxic legacy left by his predecessor in the role. Supporters of Corbyn and 'Corbynism' had hoped that Rebecca Long Bailey would have been given the top job, allowing them to continue their dominance of all aspects of the party from grass roots to the PLP. Stamrer's election all but ended their hopes, but a ray of light for the continuation of radical left wing policies has been left with the election of Long Bailey's former flatmate, Angela Rayner, as Deputy Labour Leader, which will hinder Starmer's ability to carryout a full on purge of the far-left of the party from any position of authority.
Whilst many will claim that the 2019 election was won purely on a platform of Brexit alone, the data tells a different story. Jeremy Corby was one of the most unpopular party leaders in history and his name was politically toxic on the doorstep during the 2019 campaign. Unfortunately his supporters did not and still do not believe this to be true. Starmer now has the opportunity to emulate former USSR President Nikita Khrushchev's famous 'secret speech' of 1956, in which Khrushchev singlehandedly denounced and destroyed the legacy of his predecessor, Joseph Stalin, enabling him to portray his own leadership as the breath of fresh air that his country desperately required.
This will not be an easy job for Starmer, given that he has had to court the left wing of his party in order to secure the leadership. However it is a necessity for him if he wants to be the first Labour Prime Minister to win an election since Tony Blair in 2005. If he can convince the British electorate that 'Corbynism' is dead, and create his own brand of moderate, stable, centre-left 'Starmerism' that is popular to the median British voter, then Labour will be in with a huge chance of achieving something that looked almost unthinkable on the 1st January 2020; re-gaining the keys to Number 10 Downing Street in 4 years time.