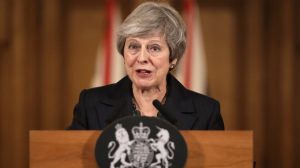 After much fanfare, Theresa May finally announced to the nation last week that she had managed to reach a deal with the EU.  Not a trade deal, but the terms of withdrawal.  The deal was announced after a marathon Cabinet session last week.  May then faced arguably one of the toughest days a British Prime Minister has ever had to face in history, clinging on to her position by the proverbial thread.  She immediately lost two Cabinet Minsters, Dominic Raab and Esther McVey, along with a swathe of junior ministers.  She was then given a three hour battering in the Commons by members from all parties, including her own.  She was then faced with a prospect of a coup, with Jacob Rees-Mogg publicly announcing that his letter of no confidence had been submitted to Sir Graham Brady, Chair of the 1922 Committee.  It seemed that a vote of no confidence was imminent and that May would be gone by the weekend.
A week later and May is still Prime Minister.  The rebellion from arch Brexiteer back-benchers appears to have subsided for now and there have been no more Cabinet resignations.  She is now set to spend the weekend in Brussels to get the draft deal finalised with the other 27 member states.  However she is clearly not out of the water yet.  Simple arythimatic of MPs against her deal, shows that it has close to zero chance of getting through the commons.  Indeed, in a fantastic classroom exercise with the Cranleigh UVI, the only scenario where a deal could get the numbers to pass through the Commons, was May offering a 2nd referendum to snap up some moderate Labour MPs.  However even this would likely lead to some of May's Conservative MPs who are currently backing her deal, rebelling due to her reneging on her promise not to have a 2nd referendum.
As for the deal itself, it is clear that no matter what May says, this is a deal concocted in Brussels, with only minor inputs from the UK.  She has attempted to placate the British public by getting the best of both worlds; leaving the EU, but remaining as close as possible to it.  The EU have known that this was her objective all along, and have therefore shaped the deal in their own interests, effectively still binding the UK into aspects of the single market, customs union and jurisdiction of the European Court of Justice for a number of years to come.  The idea that the EU would give Britain a good deal was always a fantasy, which was entertained by Theresa May upon becoming Prime Minister in 2016.  Why would the EU ever offer a country better terms in order to leave it, especially with the growing discontentment in the organisation from large number of other members.
The reality is that to the only way to leave the EU is completely drop out, in other words the 'no deal' scenario.  A lot of time, money and resource could have been saved if it was made very clear that this is what the 2016 referendum was actually about.  If May's deal fails to pass Parliament in a few weeks and with the calls for a people's vote growing, perhaps it is the time to have a second referendum after all, with a very clear choice:  100% in the EU, or 100% out!