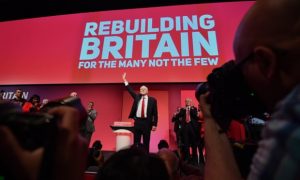 Labour congregated in Liverpool last week, eager to put their miserable summer of antisemitism allegations behind them.  With the Brexit deadline looming, it was vital for them to show a united front, present a clear vision for the future under Jeremy Corbyn and set out their stall for what a Labour Brexit would look like if Theresa May's Chequers deal gets voted down by Parliament.  Here are the three key takeaways from the conference.
1. Labour are still heavily divided
Liverpool was a tough place to be for those on the right of the party, (i.e. The Blairites).  They have been increasingly marginalised since Jeremy Corbyn's two leadership triumphs, with no sign of this stopping.  To make matters worse for them, conference passed measures making deselection of sitting MPs by local party members a much easier process, turning up the heat on Corbyn's critics.  Labour's National Executive Committee claim that this makes them a far more democratic party and will foster unity, whereas in reality it is deepening the existing fractures in the party.  There is still hope for the Labour moderates.  Another poor showing from Labour at the next General Election would likely drive the party back towards the centre ground, but with unity in the Conservative party at an all time low over the delivery of Brexit, this does not look like happening any time soon.
2. Labour are willing to play politics over Brexit to get back into power
The main question that everyone hoped would be answered at the conference last week was in regards to clarity over Labour's position on Brexit.  With support for a second referendum (dubbed The People's Vote) on the rise and the EU's reluctance to offer the UK a bespoke deal to Britain, would Labour make a clear pitch to attract remainers and soft-brexit supporters, or would they continue to claim to 'respect the result'.  The answer was a spectacular fudge, showing that it isn't just the Conservative party who are willing to sacrifice principle for pragmatism.  Labour claim that they will support Theresa May's deal if it meets 6 objectives, which are nigh on impossible.  They will then force a vote of no confidence, and push for a deal which keeps the UK in a customs union with the EU (i.e. a Norway Deal) and failing that will offer a 2nd referendum on the deal, including possibly having 'remain in the EU' as an option.  Neither Jeremy Corbyn or Shadow Chancellor John McDonnell really want the UK to be part of the EU, but with the Conservatives set to tear themselves apart at their own conference in Birmingham this week, the opportunity to pick up some populist votes over Brexit is far too good to miss.
3. Jeremy Corbyn has a clear vision for Britain
Whether you like his policies or not, it is hard to claim that Corbyn did not set out his stall in terms of where he would take Britain if he is elected into power at the next election.  Having put forward the most radically left wing manifesto in recent history at the 2017 general election and gaining 30 additional seats, Corbyn doubled down on this last week, with an offer of even more radical policies that the party want to be seen as 'mainstream'.   Nationalisation of the railways and utilities industries.  Pushing for a 4 day week for all workers due to automation and technology.  Forcing businesses to give 10% of shares to workers.  Mandatory positions for workers on boards.  And plenty more free stuff, including free childcare for all 2, 3 and 4 year olds for up to 30 hours a week.  A National Education Service, i.e. an NHS for schools.   A commitment to 60% of all UK electricity to come from renewable sources by 2030 and in turn the creation of hundreds of new skilled jobs in the green industry.  The media were quick to point out the usual questions of funding for all of these, but this does not take away from the fact that Corbyn has put forward a positive vision for a post-Brexit Britiain, meaning that the Conservatives have to follow suit with a vision of their own next week.  Given that the Conservative conference is likely to be a Brexit showdown crossed with a beauty parade for their next leader, it is likely that this vision will not be forthcoming.
What will this mean?  A significant bounce for Labour in the polls, unless the Conservatives can somehow put their differences aside this week (which is highly unlikely) and the ever increasing chance of a radical left wing government in Westminster following a snap election taking place over Brexit in the next two months!  Watch this space…..