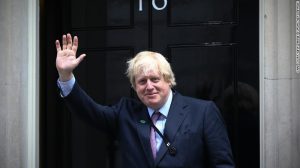 Questions have to be faced regarding the position of the Prime Minister this week having attempted to scrap the Committee on Standards for a Conservative-majority committee to look over Owen Patterson's scandal and overhaul the system that monitors the behaviour of our MPs. This is utterly unacceptable as it is an attempt by the Prime Minister to retain an old friend's position in parliament who has quite obviously broken lobbying rules having been in a representative position whilst being paid by two other companies to help retrieve government contracts. Calling for the creation of a Tory dominated standards committee suggests that the Prime Minister is denouncing the strong democracy the United Kingdom is built on. This is complete ludicrousy from a Prime Minister who has got it wrong time after time since before the Covid-19 era.
Vaccines and Brexit. The only two areas that Boris Johnson could be argued to have led our country to victory in. But on the former, we must recognise that his success on the vaccine program was only due to the mess our country had been in since March 2020, when the Coronavirus was allowed to sweep across the British Isles as a result of Johnson's inadequate decision making. No, one cannot blame the Prime Minister for the creation of a lethal virus, but the ability of it to spread in a small and more dispersed country, relative to other nations, is criminal and unforgivable! In one of his first (of what ended up being countless) Covid-19 briefings, he stood up in front of a fearful nation, letting us know of how he'd been in hospital that day, shaking hands with Coronavirus patients. In hindsight, this has simply proven the arrogance and out-of-touch nature of Boris Johnson. We also cannot forget the Christmas we were all promised in December, in what felt like was going to be a time for jubilation at the end of a treacherous year. Just a week before the 25th, regions plunged into lockdown one-by-one, we were subsequently all told we could not visit our loved ones and households sat around a Christmas dinner with a frowning turkey and those we'd already spent a year with!
There is much more one could write about the Tory leader, like his history of racism or his inability to sack a government advisor who had broken the lockdown rules we were all at our knees to. He is a Prime Minister so out-of-touch with reality and the electorate that voted for him that he will be voted out of office at the next election, and really should have had a vote of no confidence thrown at his feet by now.