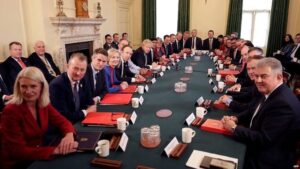 The UK government is in a sensitive position. If the vaccine programme proves successful, the cabinet is going to need to be the strongest ever. Hindsight will kick in globally, resulting in scrutiny and comparison of the country's pandemic recovery and prevention techniques. Johnson is going to need a cabinet with integrity and loyalty in order to remain united and strong against critics. The strategic direction that Johnson is going to need to consider is that of defence; he will need ministers to defend the government's decisions through the past year convincingly. So, specifically what action does he need to take?
It has become clear that the appointment of Rishi Sunak as Chancellor of the Exchequer was a wise and calculated decision. His implementation of the furlough scheme has been widely popular with the population and managed to keep some businesses afloat. It could be argued that without the boldness and intellectual decisiveness of Sunak, businesses may have plundered a lot sooner. His experience in the role and expertise would mean that he has a strong mandate to remain in his position this May.
The Prime Minister has been recently criticised that his employment of women is looking a little narrow. There are 7 women in his cabinet out of 26 members; considering the population is about 50%, the leadership is not very representative. So what should Johnson's move be? Well the most merited appointment would be promoting Liz Truss. Although currently serving as International Trade Secretary, there is speculation that she could be moved to a higher role. She has proven trustworthy in her success at finalising 64 trade deals post- Brexit and remaining loyal to government decisions through the pandemic; obviously worthy traits the Prime Minister would consider in a reshuffle. Truss could replace Gavin Williamson as a result of his failure during COVID. The role is imperative in securing the next general election because of the failures caused by the current minister; she may be able to revive the role and build trust with the education system again.
This would pave a way for a new International Trade Secretary. Johnson will need someone in this role with party loyalty. As Brexit remains a sensitive issue, he will need someone to listen and cooperate; perhaps Robert Jenrick. He has openly followed party lines and remained a delegate for the Prime Minister instructions. This quality may be most valued when considering a reshuffle for the role.
The elephant in the room, Matt Hancock. He has to go, but replaced by who? Considering the vitality of the role, I would consider Micheal Gove. His parliamentary experience may prove helpful in handling the deteriorating health care position. Although not always loyal to Johnson, he has proved reliable and tactful in the pandemic and could potentially lead the cabinet out of the virus cohesively.
However, the removal of him or Patel from a senior position may cause controversy. Their supporters could cause unrest if they were to be moved to a lesser role. It could be seen that Johnson is doing this for his own personal gain; employing more quiet and less controversial members to the senior roles so he can delegate instructions. Although I doubt he will make that move, because one thing that Johnson has proved is that he is not afraid to deal with a plethora of opinions; as seen during Brexit negotiations.
Therefore Johnson has a tough decision on his hands. He needs to appoint a cabinet with dominating party loyalty, diversity, experience and popularity. Perhaps the best way to win back the population is by removing Matt Hancock and Gavin Williamson and replacing them with more popular figures such as Michael Gove and Liz Truss. He also needs to consider the perception of the party and what impression he wants to give, therefore he will need to consider members which have proved loyal and effective such as Jenrick. All shall be revealed in May, let's hope that this new cabinet is stronger than the last one!