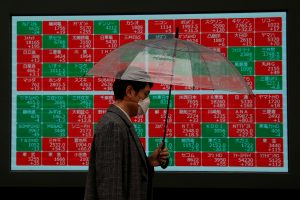 As of the 6th of May across the world 264,000 people have died from coronavirus, a total economic cost of $4.1 trillion as quoted by Bloomberg and approximately 1.25 billion people have lost their jobs. And yet thousands of people are heralding the lockdown as the best thing to happen to their lives. This is because staying at home has a range of benefits, such as the lack of pollution, the kindness of neighbours, appreciating friends and family, the support for the NHS and peoples healthier lifestyles. But the question is: whether or not the effects of the terrible suffering in the world will be worth the benefits the world may feel when we are released from lockdown?
Economically the world will be devastated; with an average loss of 5% of GDP for every country according to Bloomberg, 1.25 billion in unemployment and huge budgets spent by governments on the prevention of Covid-19, supporting the economy, benefits for the unemployed and resources for health services. When we come out of lockdown this will mean that governments will have to regain this money by raising taxes or by reducing public spending, for example on the health service or social protection (as the two largest sectors of government spending). It's hard to see how the poorest in society will not be the worst hit by these outcomes.
Unlike the economic effects the social effects of the lockdown are more balanced but less tangible; for the families of the 265,000 who have lost their lives Covid-19 can never be positive. However, for some, the lockdown that it caused has provided a welcome opportunity for self-improvement: surveys in the UK done by the Telegraph have shown a significant rise in the number of adults exercising daily. Support for the NHS and other charities fighting the virus has been exceptional, shown best at 8pm on Thursdays and by heroes around the world working incredibly hard to raise money for charity. Notably Colonel Tom Moore the 100 year old Second World War veteran who is still is still walking laps of his garden inspiring over 1.5 million people to donate to the NHS.
Although it is easy not to look outside of this privileged bubble where this positivity resides and see the suffering in already poverty stricken third world countries. But you don't have to look out of the UK where in the poorest areas of our country there has been a 700% increase to calls to domestic abuse helplines. Covid-19 could be devastating in low income countries, especially in Africa where there have only been just over 2,000 deaths from the virus but many have not even been able to make it to hospital. Most worryingly when the infection rate rises, which it is likely to do, the poor healthcare systems will quickly be overwhelmed and supplies of everything from ventilators (of which there are only 2000 in Africa) to soap and water will quickly be diminished. On top of this many of the governments have just released citizens from a 14 day lockdown because many people had no food or water and because most businesses are independent and family run so they have had no income and have been unable to cope.
The only real positive thing to come from Covid-19 is how the environment has responded to two months without planes and with greatly reduced car emissions, but most importantly across the world demand for electricity has greatly reduced – up to 20% in the UK – and this has resulted in huge cuts to the burning of fossil fuels and emissions of carbon dioxide. Across the World nitrogen dioxide and carbon dioxide (the two most prevalent greenhouse
gasses) levels have fallen an average of 40% leading to the smog above many cities disappearing. Many people are hopeful that after seeing how wonderful nature is as it emerges during lockdown and how clean our air is with more suitable levels of greenhouse gases and traffic the world will decide that they should keep it this way. But if we immediately return to treating the environment in the same way as we did before coronavirus the timer will just keep ticking down to irreversible climate change.
Despite this I regretfully believe that these social and environmental benefits won't continue after lockdown and therefore the only change will be the devastated economy. We all knew that the world would be a more fulfilling place if we were kinder, more supportive and environmentally friendly and yet we weren't compassionate and were still happy to fly and drive around the world before. So why would we change now? I hope more than anything to be proved wrong but I have my doubts.