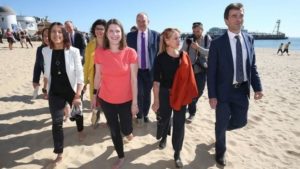 There are few certainties in life. Death. Taxes. Steve Smith scoring a century. Mr Leeke carrying an umbrella no matter what the weather. The Liberal Democrats snatching defeat from the jaws of victory.
It is party conference season once again. The time of the year when various seaside resorts across the UK are suddenly awash with noisy, insufferable, dogmatic party loyalists. The headlines this week should have rightly focused the specatular fall from grace of UKIP, the party that only 4 years ago gained over 3 million votes in the UK general election. This year, is new leader (this week) Richard Braine (yes this is his real name), has decided not to appear at his own parties conference due to the fact that ticket sales have been relatively non existent.
However it is Jo Swinson and the Liberal Democrats that have taken the limelight this week in balmy Bournemouth. The Lib Dems have been riding high in recent times, following Swinson's election as party leader early on this summer. In bolstering their anti-Brexit stance in the EU Parliament elections this year with the catchy slogan 'bollocks to Brexit', they have managed to capture a number of wavering MPs who have either chosen to leave or who have been booted out of their own political parties. Former Labour and TIG members Chukka Umuna and Luciana Berger, along with former Conservative Sarah Wollaston have recently donned the yellow jersey and liberty bird. At the opening of conference last weekend, Swinson then proudly introduced former Conservative Justice Minister Sam Gyimah as her newest member; a man once tipped to be a future Conservative leader and indeed Prime Minister.
Just when it seems like things are going well for the Lib Dems, something always seems to go wrong. In 2010 after finally getting into government in the coalition, they were forced to perform a dramatic U-turn on tuition fee policy, which continues to alienate them to younger voters nearly a decade later. In the run up to the 2017 election, poised to take votes as the most pro-remain party, former leader Tim Farron refused to answer questions about his stance on homosexual intercourse which ended up ruining his campaign and ending his leadership.
History appears to be repeating itself again. Up until now, the Lib Dem policy has continued to be 'remain' but with the proviso that the people would have a 2nd referendum on EU membership as a compromise. However they have now taken the dramatic move to advocate revocation of Brexit without going back to the people. If they gained a majority, the Lib Dems would revoke Article 50 on day one and Britain would remain in the EU, thus rendering the 2016 referendum null and void. This is a strange move for a party with the suffix 'democrats'. Their polling numbers suggested the 2nd referendum (people's vote) message was cutting through, plus they had other parties on side, willing to back down and work with them in various constituencies to prevent Boris Johnson winning a majority. This new announcement has ended that, with the Green Party and the SNP both condemning the Lib Dems for their undemocratic U-turn on this issue.
If abandoning their suffix was one thing, their prefix of liberal is also currently on shaky grounds. Shortly before Boris Johnson suffered his first parliamentary defeat last week on the EU extension bill, he was greeted with the humiliating sight of one of his own MPs, Phillip Lee, crossing the benches of the Commons to sit with the Lib Dems, adding to their growing ranks. Since then it has emerged that Mr Lee's record is anything but liberal. Sure he may support Swinson's stance on Brexit, but he has been a vocal opponent of same-sex marriage, abstaining on the free vote on the same-sex marriage bill back in 2014. In addition, he has called in the past for all immigrants to the UK to be tested for HIV before they are granted permission to enter the country. Lee seems anything but tolerant in this regard, yet the Lib Dems claim that part of their 'liberalism' is to be tolerant of those who have other beliefs. It would seem therefore that so long as you are in favour of revoking Article 50, there is an open door into the Lib Dems no matter how illiberal your other political beliefs are.
The silver lining on this cloud was that the key members of the party, with Swinson at the front, managed to conduct a photo shoot on the beach without suffering the indignation of former Labour Leader Neil Kinnock, who was famously knocked over by a rouge wave on Brighton beach in 1983 ( https://www.youtube.com/watch?v=jh8ktNsie0I). Swinson has taken a major gamble this week and we wait with baited breath to the next (likely soon) election, to see if it will pay off.