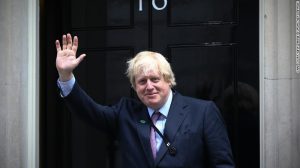 As our wonderful panel of experts predicted on our podcast on Wednesday, the final two contenders in the race to become the 55th Prime Minister of the UK & Northern Ireland are Jeremy Hunt and Boris Johnson. Given that the decision will now be made by the largely Brexit supporting Tory grassroots membership, it is highly likely, bar any major slip ups, that Boris will be crowned PM on 22nd July 2019. Politics has been unpredictable in recent years and it would be wrong to totally write off Jeremy Hunt, but even he is struggling in his belief that the next three weeks of campaigning are anything but an attempt to boost his own credentials to perhaps stay in his position as Foreign Secretary or indeed take over as the lead Brexit negotiator with the EU in conjunction with his current role.
So let us suppose then that our experts: Nick, Alice, Greg, Abbas and Mr Leeke are all correct and we do see the eventual coronation of King Boris. He will have a mandate from the Conservative party members to deliver Brexit, come what may, by 31st October 2019, whilst also factoring in the Parliament recess period of August, leaving him with very little time indeed to conjure up someway of breaking the current political deadlock. He is not going to able to do this alone, despite what many Conservative voters think. Boris is all about high level strategy, but falls down on granular detail. His cabinet selection is therefore crucial if he is going to manage to avoid the infamy of Britain's shortest serving Prime Minister. Were I to re-open my Bet 365 account, harvest the £2.40 lying dormant since a failed attempt to predict the voter turnout of the 2017 election and stake it all on the makeup of the next Cabinet, then here is what I would potential wager* (*and remember, when the fun stops……stop).
Chancellor of The Exchequer – Sajid Javid
A theory supported by Mr Leeke in our podcast (who was willing to wager a fiver on it), Boris is likely to have to tame the 'big beasts' that have been the most prominent in the leadership contest. Javid has pedigree, as being a former investment banker and being seen as having the soundest economic policies of all of the candidates so far. Appointing Javid as his de facto number 2 would also help Boris with the racist and 'islamoaphobe' labels that he has been trying to shake off in recent months from opposition parties, following unseemly comments in past articles that he has written whilst at The Spectator and The Telegraph. Javid also shares Boris' belief that the UK must leave the EU by October 31st so is a natural shoe-in for this position.
Business Secretary – Liz Truss
As suggested by Greg in our podcast, Truss has supported Boris from the start and has also won over admirers from the neo-liberal wing of the party whilst in the role of Chief Secretary to the Treasury. Her favoured role would likely be Chancellor, but a smart move from Boris would be to put her in charge of Business post Brexit as the next best option, given that this role is likely to grown more prominent should Britain leave the EU in October. Again having a female in this leading role will also help Boris to add some much needed diversity to his Cabinet
Foreign Secretary and Chief Brexit Negotiator – Jeremy Hunt
It is likely that Hunt's stature will grow amongst the Tory grassroots as the contest continues. Indeed, it is likely that had he backed leave in the 2016 referendum, this would have been a much tighter contest. Hunt has relished the position of Foreign Secretary and is likely to want to remain in the role, but would have some leverage with Boris to 'beef' up the department, incorporating both the Department for Exiting the EU and the Department for International Development into a supercharged Foreign and Commonwealth Office. This would also allow Boris to simultaneously keep the popular 'radical' candidate Rory Stewart onside in his role of International Development Secretary, but relegate this from being a Cabinet Level role, meaning that Stewart would be kept far enough away from the table to be a disruption. Having Hunt be lead negotiator would also be a smart move; Brexit really should have been run by the Foreign Office from the start, rather than seconded to a brand new department by Theresa May, which in fact had very little autonomy in the EU negotiation process.
Work & Pensions Secretary – Michael Gove
Keep your friends close, keep your enemies closer they say. Where to put a rival that you have recently extracted your revenge on, but know will cause trouble for you from the back benches? The answer – a difficult, controversial department where it is very hard to gain popularity. Work and Pensions is a poisoned chalice. Whoever goes in, has to try and somehow deliver the seemingly undeliverable 'Universal Credit' rollout, with fewer resources likely, given that the focus in the short term at least will be on exiting the EU. The other option for Gove would be Health, but it is likely that Boris will keep Matt Handcock in this other controversial posting who seems to have placated the medical profession for now, following the fall outs between junior doctors and his predecessor Jeremy Hunt.
Defence Secretary – Penny Mordaunt, with Jonny Mercer as Minister for Armed Forces
It would be wrong for Boris to get rid of the first female Defence Secretary so soon after her initial appointment. Penny Mordaunt is a Hunt backer, but was also a Brexiteer and popular with the right of the Conservative party. Her naval reservist background has also helped her curry favour with the forces so far. Mercer has been Boris' major supporter and go to man in the media in recent times. The former Royal Marine (and Celebrity Hunted winner) has made no secret of his desire for a major role in defence, in particular with his recent strike against Theresa May over prosecutions of army veterans for historical offences in Northern Ireland. He has no ministerial experience though so would likely be out of his depth in the top job, but Minister of State for Armed Forces would be a sensible fit.
Home Secretary – Gavin Williamson
Boris will likely try to persuade Williamson to return to his old role of Chief Whip, given how well he has done in counting the votes for Boris and manipulating the final round of the contest to knock out Gove, who was seen to be a bigger threat to Boris than Hunt. However Williamson will likely want a bigger seat in 'the room where it happens'. A return to Defence is probably a no-no, given his high profile dismissal for the supposed leak of the Huawei decision, but the Home Office would be a good enough reward to keep this well known purveyor of the 'dark arts' in check.
International Trade Secretary – Dominic Raab
Raab will need a 'meaty' role and it is likely that Liam Fox will pay the price of not backing Boris. Fox and Boris clashed whilst the latter was Foreign Secretary, with both vying to get more of the limelight in trying to up Britains post-Brexit status on the world stage. Fox might be shifted to Leader of The House, keeping him on the payroll and in Cabinet Meetings, but often seen as purgatory for Minister in the twilight of their careers.
Environment Secretary – James Cleverly
A former member of the Greater London Assembly when Boris was Mayor of London. Cleverly tried to stand for leader, but had little support so went full in behind Boris. He was put in charge of recycling in London during Boris' tenure and once again would help improve the diversity of the Cabinet.
Housing and Communities Secretary – Esther McVey
Another leadership contender that was knocked out in the first round. McVey embarked on a tour of 'left behind' communities as part of her leadership pitch, with a focus on domestic policies. Putting her in charge of housing would be an attractive offer to the former GMTV presenter, given that there may be a need for Britain to 'build its way out' of an economic downturn, should the Brexit process turn even more sour.
Transport Secretary – Andrea Leadsom
Leadsom was one of the reasons why Boris' pitch for number 10 came crashing down in 2016 after he failed to offer her a big enough role in his future cabinet. After narrowly losing to Theresa May, she was give the role of Environment Secretary, where she was not that impressive, and then soon shifted to Leader of the House where she restored some of her former glory within the party by standing up to Speaker John Bercow, seen as one of the arch enemies of Brexit by the Tories. Transport may not seem like a vastly attractive role, but given Boris' love for big picture projects (Garden Bridge, Boris Island Airport, the bridge over the channel etc.), it is likely that he would be able to sell it to her as an important post Brexit role to keep her onside.
Lord Chancellor – Kwasi Kwarteng
Seen as another rising star in the conservative ranks and another BMAE MP that could help Boris rid himself of his 'imperialist racist' stigma. Kwarteng, like Jonny Mercer, has been one of the leading Boris supporters in the media and has proven his loyalty under some difficult questioning, most recently on BBC Politics today.
Education Secretary – James Brokenshire
Former Davenant grammar school and University of Exeter educated Brokenshire would be a wonderful counterbalance to the abundance of Eton and Oxford Conservative MPs, including Boris (something that dogged David Cameron for much of his premiership). Brokenshire is a capable pair of hands who has Cabinet level experience and would likely be more amenable to the education unions who are still riling from the Gove reforms under the coalition. Brokenshire also backed Boris from the start of his campaign.
Chief Whip – Grant Shapps
The Evening Standard this evening claimed that Boris was informed of the exact number of votes that he would get in each round prior to the result being announced. Each time the number was correct. The co-architect of this, alongside Gavin Williamson, was former Conservative Party Chair Grant Shapps, who was rumoured to have created a spreadsheet so powerful it enabled Williamson and others to accurately pinpoint exactly which MPs the needed to effect the desired outcome of a final run-off against Jeremy Hunt. Shapps was also Party Chair in 2015 when Cameron managed to win a narrow majority, so may be seen be Boris as his lucky charm.
It may well turn out that none of this comes to fruition, especially given my recent form in Political predictions have (along with most others pundits) been entirely wrong. Whether it is Boris or Hunt that gets the keys to number 10 at the end of July, they are going to need one hell of a team around them if they want any chance of staying in Downing Street longer than 31st October 2019.
Walpole